The 9th (2009) Yamazaki-Teiichi Prize Winner Measurement Science & Technology
Real Time Mass Spectrometry for Secure Society
Winner
Yasuaki Takada
History
Mar. 1990
M.S. at Interdisciplinary Graduate School of Engineering Sciences, Kyushu University
Apr. 1990
Entered Hitachi, Ltd.
Mar. 1998
Ph.D. at School of Engineering,The University of Tokyo
Present
Winner
Masuyoshi Yamada
History
Mar. 1994
M.Eng. at School of Engineering, The University of Tokyo
Apr. 1994
Entered Toyo Engineering Corporation
Apr. 1998
Entered Hitachi, Ltd.
Dec. 2006
Ph.D. at School of Engineering, The University of Tokyo
Present
Winner
Yuichiro Hashimoto
History
Mar. 1997
M.S. at School of Science, The University of Tokyo
Apr. 1997
Entered Hitachi, Ltd.
Apr. 2007
Ph.D. at Graduate School of Arts and Sciences, The University of Tokyo
Present
Reason for award
In modern society, there is the risk of hijacking or random terrorism in areas where many people congregate or against certain services, and accordingly, ensuring the safety of the public by using detectors of dangerous substances is an important issue. The prize winners have increased the sensitivity of mass spectrometry, and modified it so they are substance-selective. They developed technology with characteristics to allow mass spectrometry to quickly detect explosives, substances used for chemical weapons terrorism, drugs and illicit substances, dioxin precursors, PCBs and other substances that may cause concern within society in an attempt to solve issues present in modern day society. To achieve these characteristics, the ionizer section of the high-sensitivity mass spectrometer features the analysis gas and the gas flowing to the mass spectrometer section to pass in opposite directions, reducing any effects from interfering substances and vastly increasing the effectiveness of ionization for the applicable substance.
Ionization of air using the corona discharge principle generates nitrogen oxide molecules that coexist with negatively charged oxygen ions. The major point of modification is the change in the flow of oxygen ions so that the oxygen ions can effectively ionize the applicable substance without the oxygen and nitrogen oxide molecules joining together. The result is a several-fold increase in sensitivity and vastly longer operating life of the corona discharge electrode.
Additionally, features have been added that enables corrections to be made to the device in real time when it is being used on-site, allowing the high-sensitivity mass spectrometer to be used continuously for extended periods of times in airports and for environmental monitoring without the need for any special maintenance.
When devices are used in airports, applicable substances that evaporate when wiped off items to be detected can be analyzed in 10 seconds. The device has been officially approved as an explosive detector both in America and Japan, with over 100 units in operation at airports in Japan and overseas. In American airports, a device that uses the cheaper ion mobility method is in use, however the device presented here has a much better sensitivity and accuracy. To further improve throughput at security checkpoints, the prize winners are also developing a walk-through device that continuously detects applicable substances over hands, clothes and other items of baggage by passing gas over them.
These achievements have been deemed worthy of the 9th Yamazaki-Teiichi Prize Winner in the Measurement and Assessment Segment due to the fact that it combats an extremely difficult issue surrounding the concern over safety and security concerns within modern day society, and with outstanding research and development techniques, manages to demonstrate the results in the real world.
Background to research and development
In 1990s, environmental pollution by dioxins had become a serious social problem in Japan. The major source of the dioxins was a flue gas from an incinerator. To reduce emission of dioxins, continuous monitoring of the flue gas was demanded. The US Environmental Protection Agency (EPA) and several other research organizations tried to monitor environment pollutants in the flue gas by mass spectrometry, but practical use of the real time monitoring system was difficult.
Overseas, on the other hand, the fall of the communist bloc resulted in thefts of military resources, with concerns that illicit supplies (such as explosives and drugs) were being traded via a newly established Internet.
Taking these anxieties into consideration, the prize winners started R&D to establish safer society by real time detection of the environmental pollutants and the illicit chemicals.
Achievements
The prize winners tried to use mass spectrometry as a real time monitoring device. In particular, they focused on that how to operate mass spectrometers under serious field conditions, and how to separate target chemicals from a large number of impurities. To overcome such difficulties, they developed a novel ion source which had longer lifetime, and a real time signal calibration methods. The use of impurities as a signal intensifier was also carried out.
As a result, for example, concentration of dioxin precursors in incinerator flue gases was continuously monitored over several months without any maintenance of the monitoring system. The relationship between the combustion conditions of the incinerator and concentration of dioxins emitted from the incinerator was determined (Fig. 1), contributing to reductions in dioxin emission.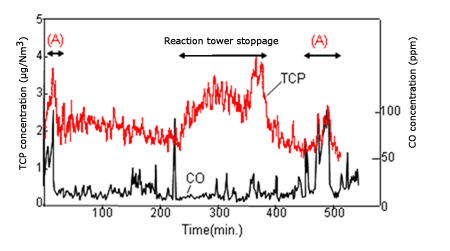 Fig. 1 Changes in dioxin precursor concentration in the incinerator flue gas (trichlorophenol, TCP)
Meaning of the achievements
The R&D efforts have started at a time where the importance of security technology was not so high in Japan, and the first Japanese-made explosive detector was commercialized in August 2001 through a joint development with NOF Corporation (one month before the September 11th attacks). In 2005, the explosive detector received certification from the Transportation Security Administration (TSA), and has been well received in security-conscious US.
The following systems have also been developed with the cooperation of related organizations. These devices are installed in areas such as incinerator plants, PCB disposal facilities, detoxification plants for the abandoned chemical warfare agents, airports, customs, and so on, and have contributed greatly to the safe and secure society as a whole.

Continuous monitoring device for an incinerator flue gas
PCB leakage monitoring device
Illicit drugs detector
Chemical warfare agents detector
      
More recently, the prize winners try to develop a novel explosives detection system called Walk-through Portal. The system detects improvised explosives made from daily-use goods with a high-throughput, and it would be useful to improve security of train stations, shopping malls, and sports stadiums. (The project is supported by the Ministry of Education, Culture, Sports, Science and Technology).